KBK Enterprises has a rich history of community involvement. We have maintained close ties not only with residents of our communities but also in offering volunteer and philanthropy support to various organizations and neighborhood groups through The KBK Foundation. The KBK Foundation has a community supportive services strategic alliance with KBK Enterprises and has been an essential partner in achieving KBK Enterprises' commitment to changing lives by going beyond bricks and sticks. We are particularly committed to enriching the lives of people that have been traditionally under served.
In partnership with other businesses, government and the nonprofit sector, we've pledged our resources and The KBK Foundation's support to help make our neighborhoods and communities attractive places to live, work and do business.
We work with community leaders to cultivate and execute initiatives for civic, economic and social well-being, and our employees enthusiastically volunteer their time and contribute financial support to a variety of community efforts.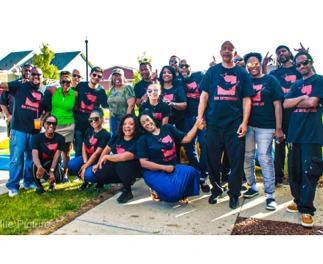 Community Groups & Initiatives We Support
Keith B. Key and other staff members have provided significant volunteer hours within the communities that we serve. We firmly believe that our investments should benefit the neighborhood as a whole, not just our buildings. We have been very active with non-profit organizations, community groups and trade associations in providing volunteer time, philanthropy and forming partnerships with the following organizations:
100 Black Men of Pittsburgh
African American Chamber of Commerce of Western PA
American Classic Pageant
Arsenal Middle School
Bloomfield Garfield Association
BW Cooper Resident Management Corp.
C.A.R.E. S. Program
Carnegie Library
Clean Slate E3
Columbus State Community College
Delta Sigma Theta Sorority
Dress for Success
Garfield Jubilee Association
Garfield Gators
Golden Eagles
Heinz Endowments Task Force on African American Men and Boys
Hill Consensus Group
Hill District CDC
Kingsley  Association
Intergovernmental MBE/WBE Council
Larimer Consensus Group
Manchester Citizens Corporation
Miracit CDC
Natl. Assoc. of Minority Contractors
National Football Foundation
North Aiken Senior Facility
Northeast Area Commission
Ohio State University
Omega Charities
Omega Psi Phi Fraternity
Peabody High School
Pittsburgh Public School Minority Business Extravaganza
University of Pittsburgh Institute for Entrepreneurial Excellence
Urban League
Western Pennsylvania Minority Suppliers Development Council
Xavier University
Youth With Dreams